It's been a rough few weeks/months in the creative arts world, that's for sure.... but here in Guernsey we have been making the most of it, and there have been some amazing virtual performances (including an Upload Festival), and a true sense of community. 

May the 9th is our national holiday, Liberation Day, and this year should have been a huge celebration to mark the 75th anniversary of the the Channel Islands liberation from occupying forces - 3/4's of a century of freedom. Due to the on-going COVID-19 pandemic, sadly, these celebrations have been massively affected, with all the large-scale events cancelled, and islands told to stay home.  

But no fear! Music is still here, and I'm delighted to say I have been invited to be involved in many ways!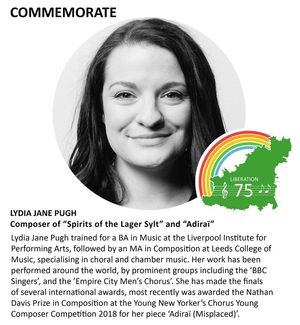 The first is as a composer, where two of my pieces which were written about the occupation and evacuation of the Channel Islands in WW2 will be featured in the section entitled 'Commemorate'; 'Spirits of the Lager Sylt' for Male Voice Choir, and the award-winning 'Adiraï' as performed by the Young New Yorkers Chorus.

And the second, as a singer and leader! In the following section entitled 'Celebrate', myself, my mother and my fiancé will be kicking off the sing-a-long section with 'Sarnia Cherie' and a few well-loved 1940s classics 

You can catch the entire live stream, starting at 2.30pm BST (british summer time), by liking the Liberation 75 page (link below), where the stream will be hosted from (or you can catch it again later I'm sure!) 

If you don't think you'll make the live stream, you can follow the link below to my soundcloud page to hear 'Spirits of the Lager Sylt' and 'Adiraï' fpr yourselves 
https://www.facebook.com/Liberation-75-Where-words-fail-music-speaks

https://soundcloud.com/lydia-jane-pugh


Thanks all! Stay Safe! x